Walker River is a fairly small zone with lots of empty space, and is the only zone that only has 2 secret passages. It's a great source of

Fuel and fishing, mainly due to there being two gas stations with items that provide fuel and multiple fishing spots along both sides of the river.
Cliffside Railway - Follow the river all the way to the end on the west side and hit Route 66. Follow the road west until the first southward fork and follow it until it hits a cliff and then go in the entrance by the parking lot to the north. The crate can be found by following the edge of the cliff to the other end.
Wrecking Yard - (Colloquially known as the impound lot); from the spawn head southwest past the grocery store until you see an American flag; go down this passage and you'll hit the road. Go down the road until you see a gated impound lot. It'll be one of the first areas on the southeast side. The crate is in the last room of the southern building.
Strategy table blueprint
[
]

The blueprints found here will unlock the strategy table (see page for locations). The blueprints look like a map.
Side missions
[
]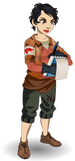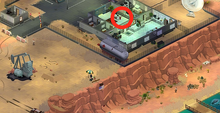 You can find 2 camera in the building she's in. Normal zombies also have a chance to give cameras as a quest drop (green loot bag).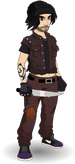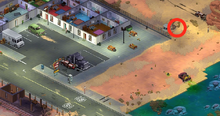 You can find a

Lighter on a picnic bench near the motel and another in the north western most motel room if you need a fire damaging weapon.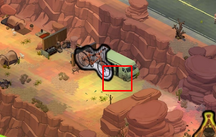 There is plenty of fuel in the gas station just northeast of this area. Go southeast of the gas station by the Motel, you'll find him fixing the brown van.

While on this quest, infected will have a chance to drop crab, which can be salvaged for a chance to get salt, and you can also fish in the nearby fishing spots for various fish. Talk to him again when done.
Map
[
]
Click to enlarge. Map image provided by Bogkitty.

Gallery
[
]