The player is virtual representation of the person playing the game. They can be customized.
Exploration
[
]
Players have to explore different areas in order to collect elements that will allow them to fix their camp and exploring will allow them to find valuable resources and interesting items.
To move between areas, players must collect vehicles during their exploration. Each vehicle unlocks a new area, but don't forget to bear in mind that the farther you go, the harder it gets.
Upon entering an area, players can choose between exploring it alone or in multiplayer mode. Once the choice was made, the player must then explore the area and face the incoming zombies in their way in order to free up a path to the valuable resources.[1]
Attacking
[
]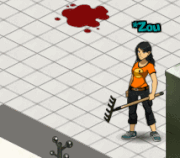 You must face zombies in your way in order to free up a patch to the valuable resources. There are different attacking items, which hit different amounts of damage.
Level up stats
[
]
The max stats for leveling up are:
| Stat | Cap | Bonus per level up | Total needed level ups to complete |
| --- | --- | --- | --- |
| Damage | +20% | +0.5% | 40 |
| Critical chance | +10% | +0.5% | 20 |
| Resistance | +20% | +0.5% | 40 |
| Max health | +100 | +1 | 100 |
| Healing skill | +40% | +1% | 40 |
| Stamina gain | +20% | +0.5% | 40 |
| Food | +20 | +1 | 20 |
| Water | +20 | +1 | 20 |
| Rest | +20 | +1 | 20 |
Gallery
[
]
References
[
]