Camp buildings are structures you can build in your area of a

Survivors' camp once you have obtained the blueprints. You only start out with two buildings that you need to construct the rest: the

Stock (for storing resources), and the

blueprints table (for constructing buildings from blueprints you find).
If you get a blueprint from a level up reward choice but don't choose it, it will appear again later. Blueprints that are available on level up show up every 3 levels[1] if you haven't already obtained them all.
Furniture can be moved with ⇧ Shift + left click and rotated by pressing R while it's being moved.
Some buildings have their blueprints unlock only after you find 4 incomplete versions of themselves in a certain zone since v1.10. You can view your progress in zones with blueprints to unlock by clicking the map icon on the top left while in them. You can find the individual locations on the building's page.
Note that any blueprints not listed above are unlocked another way, which can be found on the tables below / their page.
These buildings let your turn resources into something. You can only ever have one of each of these.
Image
Name
Unlock Condition

Blueprints table
(Unofficial name)
Getting saddled up quest reward

Kitchen stove
Getting saddled up quest reward

Assembling table
Getting saddled up quest reward

Laboratory
100 Reputation from Lynn Durand.

Crafting table
Level up reward choice

Sewing workshop
Level up reward choice

Engine-generator set
Research workshop

Research workshop
Create blueprint from incomplete versions or

Level up reward choice

Forge
250 Reputation from Lynn Durand.
These buildings stores specific resources or items.
These buildings either require no input to perform their function, or require occasional input or tweaking.
Buildings that don't fit into other categories.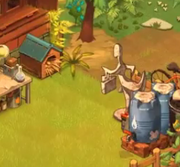 Possible future buildings from translation files:
Those seen in the thumbnail to the right.
Unnamed structure that would attract infected; possibly planned but removed. In the French translation files, it is named "Sirène", translating to "Siren". [4]
One of the game admins has a decorative statue in their camp as seen on the right.
Community content is available under
CC-BY-SA
unless otherwise noted.